Saigon JSC Aquatic Products Trading. followed Model 3 on site during the fourth outbreak of Covid-19.
When asked whether or not she should return to her hometown for the long Tet holiday, Le Thi Thao – a worker in the Linh Trung Export Processing Zone – said that even before the pandemic, it was enough difficult for her to manage life with 3 children. Now that the outbreak has occurred, she could barely save enough money for her daily activities here, let alone return to her hometown.
This is quite common among a large number of workers in industrial parks and export processing zones around HCMC.
The head of the board of directors of the HCMC Export Processing and Industrial Zones Authority (HEPZA), Hua Quoc Hung, informed that 75 percent of the current staff will remain in HCMC this lunar new year. Some companies have decided to work until December 28 of the lunar year 2021 and start on the third of the lunar new year to fulfill their many orders.
As stated by Truong Tien Dung, Managing Director of Saigon Aquatic Products Trading JSC., His organization is still processing many orders due to their temporary shutdown during the latest Covid-19 outbreak in HCMC; So he appealed for the cooperation of his staff to work until December 29 of the old lunar year and start on the 4th of the new year. To allow its employees to benefit from the spirit of Tet, it has planned to set up a flower shop on the site, to cook "banh chung" for everyone, and to offer security packages as well as assistance. financial, lucky charm to its workers.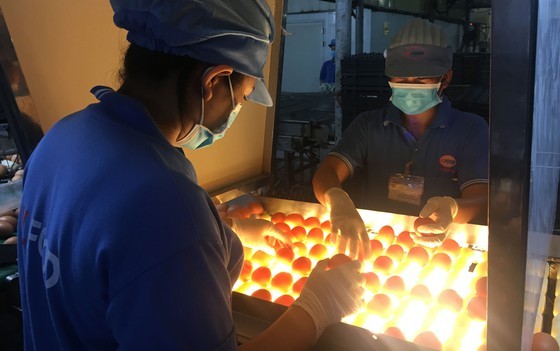 Vinh Thanh Dat Co. followed Model 3 on site during the fourth outbreak of Covid-19. (Photo: SGGP)
Sharing a similar situation, Vinh Thanh Dat JSC., Who has tried every means possible to keep at least 70 percent of its employees in HCMC to return to work as early as the fourth of the Lunar New Year. As an incentive, in addition to the salary for the thirteen months, he will distribute lucky money on New Years Day for everyone who stays here, as well as entertaining activities for employees to enjoy a warm Tet holiday. .
Tran Thien Long, vice chairman of the steering committee for têt guarding for workers in export processing and industrial zones in HCMC, said his committee has mobilized the contribution of companies to organize coaches to transport 1,000 workers to their hometowns as well as providing financial services to help needy workers. They also provided train tickets for 200 families of excellent workers and plane tickets for 50 of the most remarkable employees.
This steering committee worked with the Vietnam Fatherland Front HCMC Committee, the HCMC Worker Support Fund and Saigon Coopmart to provide 800 gifts worth VND 500,000 each (US $ 22) to the working poor. The Industrial and Export Processing Zone Workers Union, which distributes 12,000 gifts, worth VND 500,000 each, to needy workers in HCMC.
Adding to the excitement of the upcoming Tet holiday for workers staying in HCMC, the steering committee will organize a "Worker Love Marker", where essentials are sold at below market prices; deliver 1,000 coupons of 300,000 VND to each zone; launch a program called "Warm Tet Holidays for Workers", where company employees can participate in traditional Tet competitions such as "banh chung" cooking, traditional games or enjoy Tet food, decorate their homes; and organize a short trip to Dam Sen Cultural Park for 650 working families.
In related news, Quang Ngai province has officially rescinded the decision to ask people coming to this region to display the result of the Covid-19 RT-PCR test. Since the province can essentially control the Covid-19 outbreak, checkpoints are being phased out and traffic has become more fluid for individuals and businesses.
"The province will do its best to welcome its residents to their homes for the Tet holidays, while asking everyone to strictly observe all regulations for the prevention and control of pandemics for the good of their family and their community," Quang Ngai Province People's Committee chairman Dang said. Van Minh.