Senior Vietnamese defense officials reiterated that participation in United Nations peacekeeping operations (UN PKO) has become a mainstay of the army's defense diplomacy and a spotlight on its multilateral cooperation.
This is proven by the country's contributions to the UN PKO when it was a newcomer to the global security campaign eight years ago.
Vietnam began its peacekeeping missions in June 2014. In November 2020, the National Assembly passed a resolution to provide a comprehensive legal framework for Vietnamese troops to engage in peacekeeping activities .
The 2019 Vietnam Defense White Paper noted that as a responsible member of the international community, Vietnam is keen to fulfill its duties while actively cooperating with other countries to resolve emerging security issues, thus contributing to the protection of peace and stability in the region and in the world. Vietnam appreciates the role of the UN in maintaining peace and preventing conflicts and wars.
Vietnam has become an active contributor to the UN PKO. Since 2014, Vietnam has deployed 512 personnel to UN headquarters and peacekeeping missions in South Sudan and Central Africa. These include 76 military officers (military advisers, observers and liaison officers), 252 medical staff from level 2 field hospitals and 184 sappers.
So far, Vietnam has signed memorandums of understanding on peacekeeping cooperation with nine countries, the UN and the European Union. Some partners, such as the United States, France, Japan, and Australia, have supported Vietnam with training, facilities, equipment, vehicles, and transportation for peacekeepers at the UN PKO , according to Phan Xuan Dung, a research officer at the Vietnam Studies Program at ISEAS – Yusof Ishak Institute, Singapore, and Nguyen Cao Viet Hung, a master's student at the Graduate School of Political Science, Waseda University, Japan .
Vietnam's growing peacekeeping commitments are also driven by the perceived gains from membership in UN missions, namely building national defense capabilities and improving international reputation, helping the country to gain credibility as a responsible member of the UN and increase its overall diplomatic standing in the world.
UN Secretary-General Antonio Guterres told Vietnamese President Nguyen Xuan Phuc that Vietnamese personnel performed their duties excellently and served as an example to peacekeepers from other countries. On the occasion of the International Day of United Nations Peacekeepers on May 29, three Vietnamese peacekeepers received the Dag Hammarskjold medal from the hands of Under-Secretary-General for Operational Support Atul Khare.
Lt. Col. Luong Truong Vinh, Lt. Col. Tran Duc Huong and Major Nguyen Phuc Dong were honored by UN leaders for their special efforts and achievements during their work at UN Headquarters in New York. They are among 82 military and police officers from 28 countries who have been honored for their contributions to global security.
Female peacekeepers – a highlight of Vietnam's peacekeeping missions
"I am very excited and determined to join this mission no matter how many difficulties ahead we may face to deserve to be a Vietnamese soldier known for his courage and dedication to the common cause," Le Dieu said. Hoa, 29, before leaving for the United Nations peacekeeping missions in Abyei, the scene of a long-running conflict in Africa, Tien Phong reported.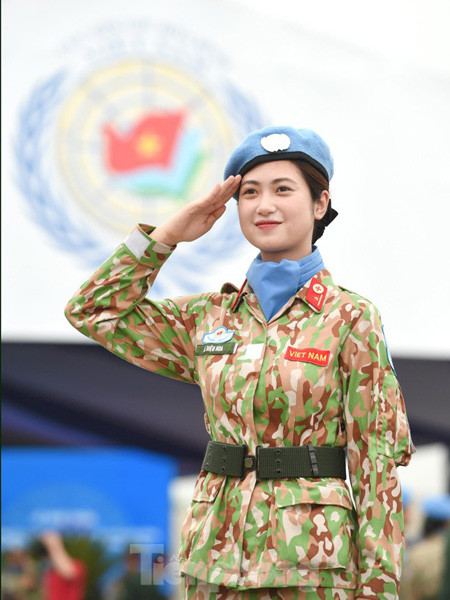 Hoa became the youngest peacekeeper from Vietnam's Engineering Unit Rotation 1 to take on missions with the United Nations Interim Security Force for Abyei (UNISFA). However, the young pharmacist was unconcerned about the hardships her unit will face in the contested border region thousands of miles from her home country.
Hoa is one of 21 Vietnamese peacekeepers in the 184-member engineering unit responsible for repairing and upgrading roads and airstrips, transporting goods, carrying out humanitarian work and to support other UN humanitarian units.
Meanwhile, the mission starting in April 2022 at the United Nations Mission in South Sudan (UNMISS) is the second Lt. Col. Do Thi Hang Nga, Deputy Director of the Level 2.4 Field Hospital, joins the UN peacekeeping operations.
"It's the second time I've been on a mission, no more worries and surprises like the first time but it's a new task, so I came with some concerns and I thought about my new role to ensure the maximum security of unit members and the local population," Tien Phong quoted Nga, who added that she and her team were determined to accomplish their tasks despite the difficulties.
Bui Thi Khiem, 30, a health officer at the UNMISS Level 2.4 Field Hospital, shared "I am leaving for the mission abroad with confidence thanks to the great support of my family and well-educated classes. trained in English and knowledge in treatment coupled with others in first aid, air medical transport and international humanitarian law".
The aforementioned female peacekeepers are among dozens of Vietnamese military officers deployed to UNISFA, UNMISS and the United Nations Multidimensional Integrated Stabilization Mission in the Central African Republic (MINUSCA).
Vietnamese blue helmets mainly work for field hospitals in Africa. Their participation helps to increase the percentage of Vietnamese women in UN peacekeeping missions, varying between 16% and 21%, compared to 5.4% in the UN average.
Lieutenant General Hoang Xuan Chien, Vice Minister of National Defence, pointed out that Vietnamese women soldiers have been highly appreciated by the United Nations for their professionalism, their ability to carry out missions and for becoming a highlight in many numerous United Nations activities in field missions.
The embassies of Canada, New Zealand, Norway and Switzerland (G4) highlighted the importance of Vietnamese female peacekeepers, saying they have a great role in mediating and finding solutions that work for everyone, bringing about a fairer and better world.
Jan Wilhelm Grythe, Chargé d'Affaires at the Norwegian Embassy in Vietnam, said, "Having a high percentage of women in peace processes can help build trust and success. It is not a question of law, but also a question of obtaining effective results. Not including women is not smart! No peace without women!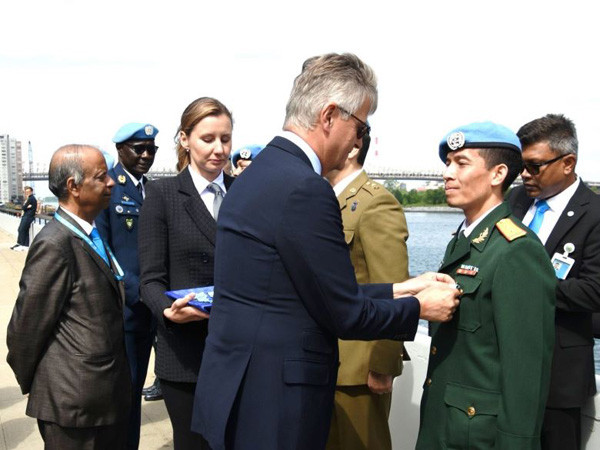 Advocating for women's participation in peacekeeping could be a diplomatic niche for Vietnam, given the country's success in this regard and its efforts to advance the UN agenda on women, peace and security. , said Phan Xuan Dung and Nguyen Cao Viet Hung.
Source: Hanoi Times