Passengers can read the newspapers directly or save them to their personal electronic devices to read them anywhere, anytime. The steps are very simple: just go to the Vietnam Airlines mobile app, go to PressReader and check the booking code and itinerary information.
The PressReader app after access
The publication list will include more than 7,000 newspapers and magazines of various genres such as news, economy, tourism, sports and entertainment in 70 languages, completely free of charge by Vietnam Airlines. This is a particularly attractive benefit since many electronic editions of newspapers and magazines can normally have subscription fees of up to $300 per year.
With this app, passengers can take thousands of newspapers on board, including international publications such as Bloomberg, The Economic Times and The Wall Street Journal, as well as Vietnamese newspapers and magazines such as Vietnam Investment Review, Giao Thong, Vietnam News and Heritage.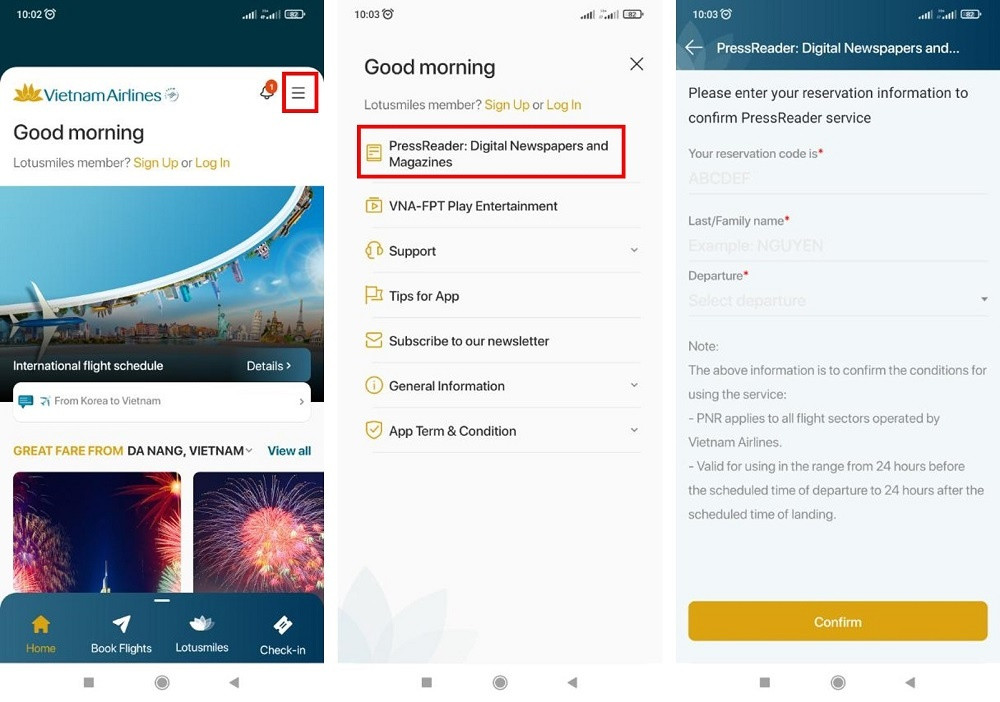 Passengers only need to follow simple steps to access PressReader and enjoy thousands of newspapers
The service is valid for 48 hours (24 hours before the scheduled departure until 24 hours after the plane has landed). Only downloaded categories can be stored indefinitely on the guest device.
"The launch of the PressReader service is our next step in digitizing services and improving the flight experience for passengers. In addition, it will help Vietnam Airlines to reduce the paper and transportation burden of the aircraft, thereby helping to save resources and protect the environment," said Trinh Hong Quang, Executive Vice President of Vietnam Airlines.
Such entertainment service is an exceptional advantage when passengers fly with Vietnam Airlines. Currently, Vietnam Airlines passengers can enjoy a variety of movies, music, newspapers and magazines through personal screens on Airbus A350 and Boeing 787; as well as WiFi on the Airbus A321neo.
Source: VIR